Am Dienstagabend (27.10.09) heißt es: Radio SPUTNIK und die Sendung "Soundcheck" im Web von 22.00 bis 23.00 Uhr einschalten! Denn Zoe.LeelA wird in Soundcheck ein Interview geben und ihre aktuelle Single "Destroy She Says" vorstellen.  Der Song "Destroy She Says" stammt von ihrem Album "Queendom Come", dass im November 2009 hier auf rec72 netlabel erscheinen wird.
Zoe.LeelA live on air – Dienstag, 27.10.09 //  22:00 – 23:00 Uhr
Livestream der Sendung "Soundcheck" auf SPUTNIK/MDR:
http://www.sputnik.de/m3u/soundcheck.hi.m3u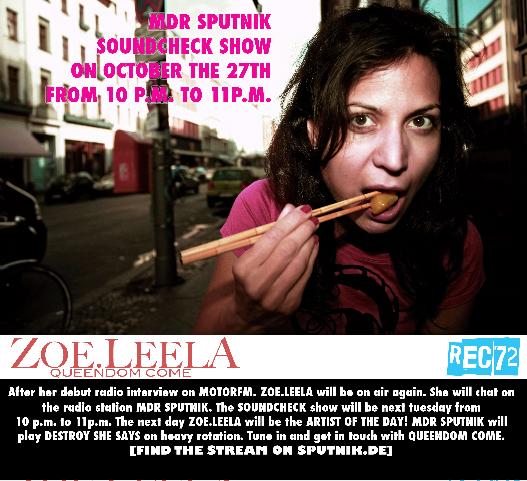 Und noch mehr Zoe.LeelA auf SPUTNIK/MDR (Mittwoch, 28.10.09)
Der MDR ist begeistert von Zoe.LeelAs Musik, und deshalb hören wir Zoe am darauf folgenden Mittwoch (28.10.2009) als Artist of the Day in weiteren SPUTNIK-Sendungen auf heavy rotation: In der Morningshow, Dein Tag, der Nachmittagsshow und am Abend im Popkult + IVTönen. Also brav einschalten und Zoe.LeelA hören!
Die Livestreams zu diesen Sendungen finden sich auf der Webseite von SPUTNIK.
Gratis-Download
"Destroy She Says"
Die erste Single "Destroy She says" könnt ihr euch heute schon anhören und kostenlos runterladen!